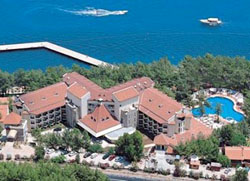 Hotel Grand Yazici Club Marmaris Palace 5* HV1 – Marmaris – Turkey
Region: Icmeler.
Location: 3 km from Icmeler, 5 km from Marmaris, 90 km from Dalaman airport.
Beach: 1st line (across the promenade), private, platform, bulked sand.
Year of opening: 1992.
Area: 70 000 m2.
Concept: All Inclusive.
Accommodation: 5-storey building (Main Building) and 2-, 3-storey bungalow.