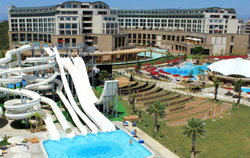 Hotel Kaya Palazzo Golf Resort 5* – Belek – Turkey
Region: Kadriye.
Location: 2,5 km from Kadriye, 6 km from Belek, 29 km from Antalya airport.
Beach: 1st line (on the beach), private, sandy & pebble.
Year of opening: 2013.
Area: 120 000 m2.
Concept: Ultra All Inclusive (Palazzo All Inclusive).
Accommodation: 6-storey building (Main Building), 2-, 3-storey bungalow and 1-storey villas.