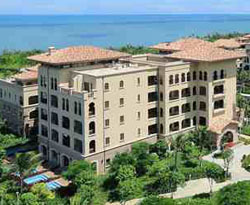 Hotel Wyndham Grand Plaza Royale Longmu Bay 5* – Longmu Bay – Hainan – China
Region: Longmu Bay.
Location: 103 km from Sanya airport.
Beach: 2nd line (across the road), private, sandy.
Year of opening: 2013.
Area: 47 000 m2.
Concept: Bed&Breakfast.
Accommodation: 5-storey buildings.
Additional information: hotel is also known as Wyndham Grand Plaza Royale Hainan Longmu Bay 5*.