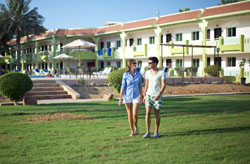 Hotel Flamingo by Bin Majid 3* – Umm Al Quwain – UAE
Region: Umm Al Quwain.
Location: 65 km from Dubai airport.
Beach: 1st line (on the beach, in the harbour), private, sandy.
Year of opening: 2000.
Area: 20 000 m2.
Concept: Bed&Breakfast, Half Board, Full Board, All Inclusive.
Accommodation: 2-storey buildings and 1-storey villas.
Additional information: hotel is also known as Flamingo Beach Resort by Bin Majid 3*.