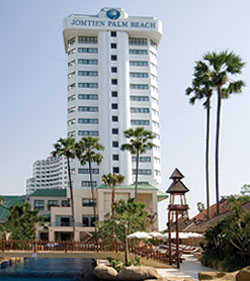 Jomtien Palm Beach Hotel & Resort 4* – Pattaya – Thailand
Region: Jomtien.
Location: 7 km from the center of Pattaya, 130 km from Bangkok airport.
Beach: 2nd line (in 50 m, across the road), municipal, sandy.
Year of opening: 1990.
Area: 14 200 m2.
Concept: Bed&Breakfast, Half Board, Full Board.
Accommodation: 16-storey buildings – Palm Wing and Jomtien Wing (built in 1998).