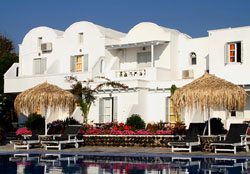 Hotel Mediterranean Beach 4* – Santorini – Greece
Region: Agia Paraskevi, Kamari.
Location: 3 km from Kamari, 7 km from Thira, 3 km from Santorini airport (directly – 500 m).
Beach: 1st line (on the beach), sandy & pebble.
Concept: Bed&Breakfast, Half Board, All Inclusive.
Accommodation: 2-storey buildings and bungalow.