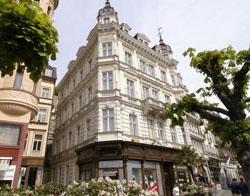 EA Hotel Esplanade I I 3* – Karlovy Vary – Czech Republic
Region: Karlovy Vary.
Location: 6 km from the railway station, 7 km from Karlovy Vary airport, 116 km from Prague airport.
Concept: Bed&Breakfast, Half Board, Full Board.
Accommodation: 4-storey building.
Additional information: major part of facilities are located in sister hotel EA Hotel Jessenius 3*.