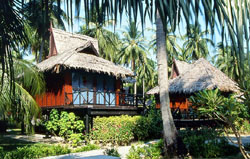 Hotel Phi Phi Island Village Beach Resort 4*+ – Phi Phi – Thailand
Region: Loh Ba Gao Bay.
Location: 48 km from Phuket, 42 km from Krabi.
Beach: 1st line (on the beach), private, sandy.
Year of opening: 1986.
Area: 283 000 m2.
Concept: Bed&Breakfast.
Accommodation: 1-storey bungalows and villas.