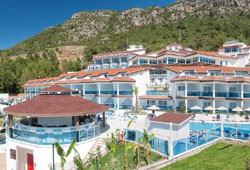 Hotel Garcia Resort & Spa 5* – Fethiye – Turkey
Region: Oludeniz.
Location: 2 km from Oludeniz, 16 km from Fethiye, 67 km from Dalaman airport, 218 km from Antalya airport.
Beach: in 2,2 km, municipal, sandy & pebble.
Year of opening: 2014.
Area: 15 000 m2.
Concept: Ultra All Inclusive.
Accommodation: 5-storey building (Main Building) and 2-, 3-storey buildings (Annex).
Additional information: located on the hill, in a secluded spot.