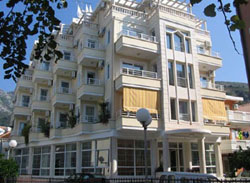 Hotel Obala 3* – Rafailovici – Montenegro
Region: Rafailovici.
Location: 5 km from Budva, 60 km from Podgorica airport, 25 km from Tivat airport.
Beach: 2nd line (in 50 m), municipal, sandy & pebble.
Concept: RO, Bed&Breakfast, Half Board, Full Board.
Accommodation: 5-storey building.
Additional information: sometimes name Hotel Obala is being used as a name for the whole complex of Obala hotels, which also includes Obala Lux 4*, Obala Plus 3*, Obala La Mer 4*, Obala Apartments Ponta 3*, Obala Apartments Fontana 3* and sometimes Obala Zelena 3*. Buildings of this hotels complex located all around Rafailovici.